For the time being, the biggest change Apple has made in recent years under the leadership of Jony Ive is the design language of the 5C generation of the iPhone and the abandonment of the traditional quasi-physical iOS 7.
In October 2012, Apple fired Cott Forstall, who was in charge of iOS, shortly after Jobs'death and the release of the iPhone 5. Jony Ive took over his position. Jony Ive has been in charge of software + hardware for all products since < strong > which was previously Jobs' responsibility.
Jony Ive is not a fan of skeuomorphic design. It is rumored that in the first 10 years of the 21st century, when Jony Ive's team designed hardware for the iPhone and the iPad, they temporarily used a virtual operating system whose interface was flat and did not seem to have any stereo sense. I've always wanted to change the quasi-physical iOS, but since Scott Forstall's objections have not been shaped before, we finally saw a new design on iOS 7 after Scott Forstall left.
As well as re-rounding the iPhone into a rounded 5c, there was an earlier answer: Does Jony Ive prefer the 5C to the 5s? At that time, it was thought that 5C was the design Jony Ive wanted, and the future flagship of the iPhone would be based on 5c.
It can be said that since then, Jony Ive has become the soul of Apple products. Compared with Tim, Jony Ive is closer to the feeling of Jobs heirs. just because of the unification of software and hardware, so many products of Apple stand out from other designs.
Later we saw the new MacOS, as well as the iPhone XS, iPad Pro, MacBook Pro. Until the start of the Apple Park project in 2015, Jony Ive, as senior vice president of Apple, was mainly responsible for the design of the Apple Park and the global Apple Store, especially the former, whose focus (or interest) seemed to have shifted to architecture.
At the end of 2017, with the launch of Apple Park, Jony Ive turned its focus back to Apple products. An Apple spokesman said, "Apple's design team is reporting back directly to Jony Ive" and "Jony Ive is still focused on design."
The reason why Jony Ive left is probably that he was bored or could not find a breakthrough. Before, many designers had such a choice. After a long time in a big company, they chose to leave and set up their own company as an external consultant.
But now Apple's announcement of the organizational structure is somewhat strange:
Design team leaders Evans Hankey, vice president of Industrial Design, and Alan Dye, vice president of Human Interface Design, will report to Jeff Williams, Apple's chief operating officer.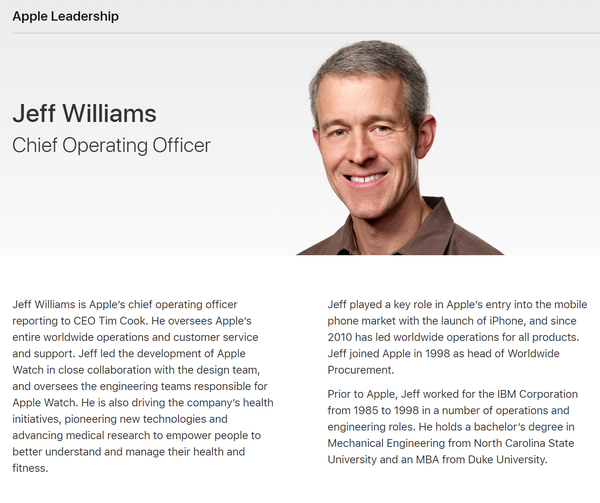 That is to say, Evans Hankey, Vice President of Industrial Design, and Alan Dye, Vice President of Human Interface Design, will report to Chief Operating Officer Jeff Williams. This may be the first time in Apple's history that there is a lack of a soul figure who unifies the overall design situation. This position was originally Jobs's, and has since been headed by Jony Ive.
Of course, don't say that if Jony Ive leaves Apple, the product will change dramatically. Richard Howard has been involved in design since the first generation of the iPhone. Alan Dye has also been working under Jony Ive since iOS 7, and WatchOS is its main responsibility.
Especially in the years when Jony Ive focused on Apple Park, they were actually responsible for the specific design of Apple's products, and Jony Ive should only provide guidance in the process.
In any case, as the actual successor to Jobs, Jony Ive has successfully led the biggest transformation of Apple's products since 2013. Together with Tim, Jony Ive has withstood the doubts of the outside world after Jobs'death and has completed its own historical process.
For so many years, Apple has lost its early, innovative posture to break the old shackles, but it is a mainstream symbol. Now, after Jony Ive left Apple, as an independent design company to provide advice outside, it may also make some new changes in Apple's products. Maybe the new MacPro and ProDisplay XDR are some examples.