The economic development of modern countries has been accompanied by the rise in the proportion of service industry, so that the high proportion of service industry seems to be one of the symbols of developed economies.
However, in recent years, global attention to manufacturing has returned. This is reflected not only in the upgrading of emerging markets and integration into the global industrial chain, but also in the intensification of competition between < strong > manufacturing powers and powerful countries.
Last October, the United States issued the Advanced Manufacturing Leadership Strategy Report , and in February this year, Germany issued the National Industrial Strategy 2030 Plan. This is reminiscent of China's manufacturing planning a few years ago.
The Fairies in the research department studied the relevant planning contents of the United States and Germany, and made a preliminary analysis combining the current situation and history of manufacturing industry (after all, they know each other).
For such a grand subject, we can only have a glimpse. Welcome to leave a message to correct the shortcomings.
The answer in this article is 6018 words, which consists of five parts: .
< strong > 1. Current global manufacturing pattern
Strong > 2. Manufacturing Competition Begins
< strong > 3. What areas will be contested?
Strong > 4. What does it depend on?
< strong > 5. Summary
< strong > < br > < strong > 01. The current pattern of global manufacturing industry < / strong > < / strong > < strong > < strong > China's total manufacturing industry ranks first in the world, with middle and low-end dominating < / strong > < / strong >
Speaking of the total volume of manufacturing industry, since 2011, China has been the first stable country in the world. According to World Bank data, China's manufacturing output in 2017 was $3.59 trillion, surpassing the US $2.16 trillion and Germany's $0.76 trillion.
Manufacturing output, trillion US dollars
Data Sources: World Bank, OECD, Yunfeng Financial Arrangement
The United States, Germany and China are the world's leading producers and exporters of manufacturing industries. Most of the import and export trade of manufacturing industry at the level of 100 billion US dollars comes from these three countries. In Deloitte's survey of manufacturing powers, China, the United States and Germany have ranked in the top three steadily since 2013.
Major global import flows
Source: United Nations Industrial Development Organization
From the perspective of manufacturing structure, there is still a gap between high-end manufacturing in China .
The United States, which has been advocating "high-end manufacturing", accounted for nearly 60% of total manufacturing exports in 2014.
Germany accounts for 53% of its high-end manufacturing exports, of which the middle-end manufacturing sector accounts for a higher proportion.
China's manufacturing exports are mainly at the middle and low end, with 42% of China's high-end exports.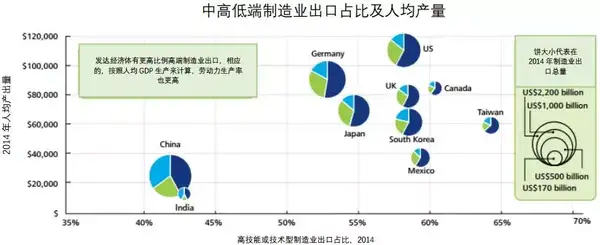 Dark blue in the pie chart: the proportion of high-skilled or technological manufacturing exports; green: the proportion of medium-skilled or technological manufacturing exports; light blue: the proportion of low-skilled or technological manufacturing exports;
Source: Deloitte, Yunfeng Financial Arrangement
High-end industrial structure corresponds to higher per capita manufacturing GDP. In 2014, the per capita annual output of American manufacturing industry was about 110,000 US dollars, compared with less than 30,000 US dollars per capita annual output of Chinese manufacturing industry.
"strong > < strong > representative industries show that high-end manufacturing industry in the United States and Germany has a leading edge < / strong > < / strong >
"High-end" manufacturing industry usually refers to the manufacturing industry with high technology content, high added value and strong competitiveness. Looking carefully within the industry, the strength of countries is still very different. We select several representative "high-end" manufacturing sub-industries as examples to compare.
The first is the military industry. Military industry is known as the "crown of manufacturing industry". It includes aviation, aerospace, high-end equipment and other fields. It has higher requirements for high-end manufacturing and plays an important role in leading high-tech.
The first two big countries in this field are the United States and China. As can be seen from the figure below, the absolute scale of US and China ranks first two in military expenditure. From the relative index of military expenditure in GDP, the United States is also higher than China.
The demand for military industry promotes output, while the increase in production capacity further promotes exports. In 2017, US military exports totaled 610 billion US dollars and Chinese military exports totaled 228 billion US dollars, ranking the top two in the world.
World Military Industry Situation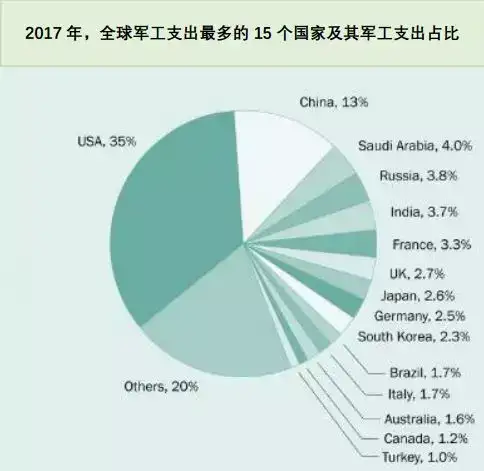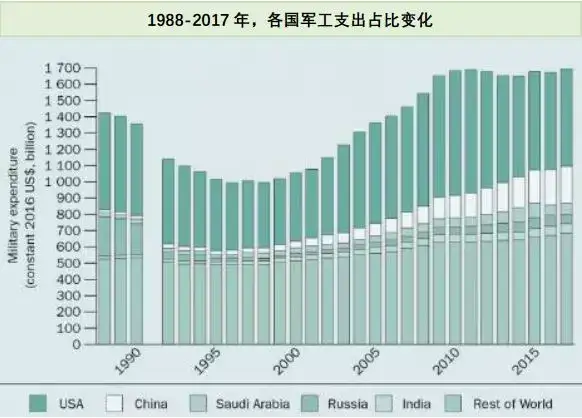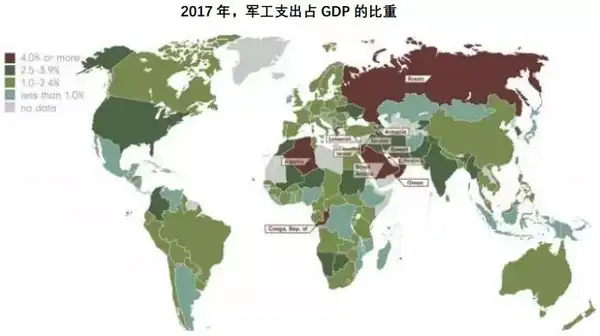 Source: SIPRI Military Expenditure Database, May 2018
From the total amount of military industry, China is second only to the United States, but the gap lies not only in the scale, but also in the comprehensive strength, including the level of science and technology. According to the authoritative US Defense News's Global Top 100 Military Industry List, US military enterprises have long occupied half of the country. The top five comprehensive capabilities in 2018 are all from the United States.
Top 5 in the global military industry in terms of revenue and overall capabilities

Source: Fortune 500, Defense News, Yunfeng Financial Arrangement
Secondly, in addition to military industry, we also select < strong > automobile industry for horizontal comparison.
The design and manufacture of automobiles involve many manufacturing fields such as machinery and equipment, automation, computers, materials, etc. , which can reflect the comprehensive level of manufacturing industry in the country.
In terms of revenue, German companies rank first, and American companies can not be underestimated. German famous car brands include BMW, Mercedes-Benz, Audi, Porsche, Volkswagen and so on. American brands include Ford, Chevrolet, Buick, Cadillac, etc. The scale of China's automobile industry is not small, but at present no enterprise can rank in the list of the largest and strongest automobile enterprise groups.

Source: Fortune 500, Yunfeng Financial Arrangement
Thirdly, we choose < strong > pharmaceutical industry, hoping to reflect the gold content of innovation in manufacturing industry from one side.
Today, the U.S. market share in the global pharmaceutical industry has exceeded $341.1 billion. In 2018, Pfizer, Johnson & Johnson and Merck ranked among the top five companies in revenue, while German and Swiss pharmaceutical groups also performed well. China, Southeast Asia and South America are still in their infancy.
Top 10 Medical Companies in the World by Revenue in 2019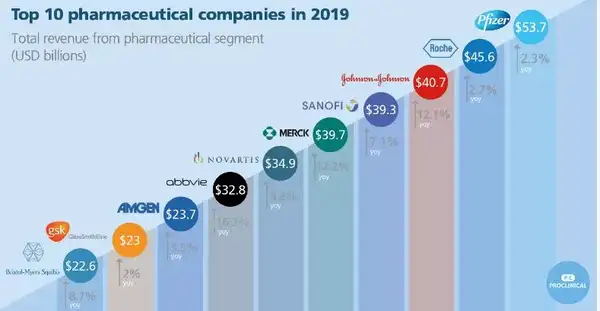 Source: Proclinical
Considering the global manufacturing pattern from the above factors, China wins by "big", while the manufacturing industry of "strong" in America and Germany is not only "big" but also "strong".
< strong > < br > < strong > 02. Global manufacturing competition has begun < / strong > < / strong > < strong > < strong > Countries have issued industrial policies to compete for manufacturing industry < / strong > < / strong >.
Under the background of the new technological revolution, the global manufacturing industry is becoming more polarized, the new round of industrial migration is accelerating, the risk of manufacturing outflow is increasing, and the industrial chain model with production as the core has fallen behind, which is the main challenge facing the development of advanced manufacturing industry. China White Paper on Advanced Manufacturing Industry Development in 2018
After the financial crisis, manufacturing industry has once again become the focus of competition among countries, and some developed countries have begun to implement the strategy of "re-industrialization" and "manufacturing industry return". China and other emerging market countries have accelerated the process of industrialization by taking advantage of cost advantages.
Nowadays, China, the United States and Germany are in a position of triumph in the global manufacturing industry .
With a solid manufacturing base in the United States and Germany, China has benefited from the rapid rise of globalization.
The policy of the United States focuses on two aspects: "revitalizing manufacturing industry", that is, promoting the return of manufacturing industry and increasing employment; on the other hand, "strong>"encouraging innovation", that is, attaching importance to advanced manufacturing industry and high-end manufacturing.
The German policy of < strong > focuses on "encouraging innovation". From the start of the core innovation plan for small and medium-sized enterprises (2009), the proposal of industrial 4.0, to industrial strategy 2030, the words "innovation" or "digitization" appear almost every time in the policy.
China's policy can be summed up in two points: .
The first is "transformation". The previous cost-winning or environment-cost model is no longer applicable. How to make the manufacturing industry sustainable development and renew its glory is the task of "transformation".
The second is "high end". With the re-industrialization of developed countries to compete for the whole industrial chain, India, Vietnam and other emerging markets to promote industrialization to compete for some low-end manufacturing industries, China's development of high-end manufacturing industry, become a real manufacturing power, is an urgent need.
Major policies on manufacturing issued by China, the United States and Germany in recent years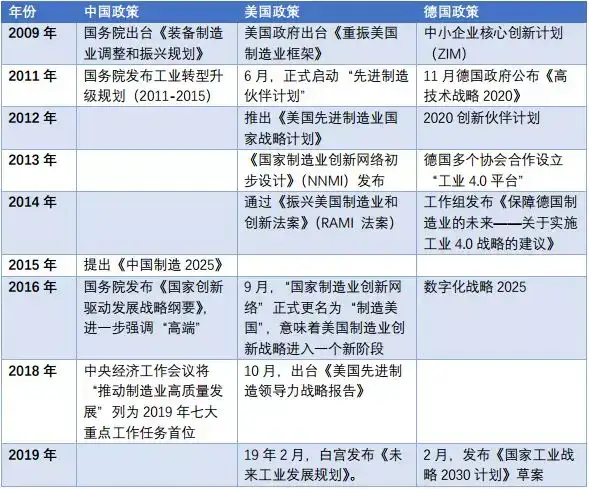 State Department, White House, http://Manufacturing.gov etc., Yunfeng Financial Arrangement
The three countries emphasize the development of high-end manufacturing industry in their manufacturing development strategies. Only by standing firm in high-end manufacturing can we gain more voice in the global industry, and it is also an important consideration of a country's national strength in the future.
The latest reports of America and Germany all emphasize "China" .
It is undeniable that the rapid rise of China's manufacturing industry in more than a decade has attracted the attention of the United States, Germany and other countries.
China is mentioned in the two latest strategies issued by virtue and Germany.
Blockquote > < EM > "Global competitors are well organized, as evidenced by the EU Industrial 4.0 Program and China Manufacturing 2025 Program, but the United States is in the lead in technological innovation. The United States must protect and take advantage of this advantage to rapidly and effectively develop and translate new manufacturing technologies into practice in domestic industrial bases and international allies. "Strategic Report on Advanced Manufacturing Leadership in the United States"
"Global Successful Platform Economy Internet Companies are currently developing almost exclusively in the United States and China, not in Germany and most European Union countries… (Germany) Action is needed. A particularly successful country in industrial policy is China. In 2015, it established the "Made in China 2025" development plan… Facts have proved that this strategy, which combines the principles of market economy with active subsidiary policies, has been very successful so far. German National Industrial Strategy 2030
While affirming China's development achievements, they began to regard China as a competitor to a certain extent.
Competition is the future trend of global manufacturing industry.
What areas will be contested? .
"Advanced manufacturing, including the production of new products brought about by new manufacturing methods and innovations, is the engine of American economic strength and the pillar of national security." Strategic Report on Advanced Manufacturing Leadership of the United States
"National Industrial Strategy 2030" aims to ensure and restore economic and technological capabilities, competitiveness and industrial leadership at the national, European and global levels in relevant areas, together with industry stakeholders. German National Industrial Strategy 2030
What does the manufacturing strategy of the United States and Germany say respectively? .
The Strategic Report on Advanced Manufacturing Leadership in the United States has three general objectives:
Developing or introducing new and high technology in manufacturing industry;
< strong > 2. Training skilled workers in manufacturing industry;
Expansion of domestic manufacturing supply chain.
Under the big target of developing manufacturing industry, five industries are specifically mentioned.
(1) In < strong > intelligent manufacturing , emphasis is laid on intelligent and digital manufacturing, advanced industrial robots, artificial intelligence and network security;
(2) In maintaining the global leading position of < strong > materials industry , emphasis is laid on improving R&D of high performance materials, additives manufacturing and chemical materials;
(3) In order to ensure better development of domestic < strong > Medical products, we should gradually return the manufacture of general drugs to the United States, strengthen continuous pharmaceutical (CM), and increase the research and development of biomedical products;
(4) Maintaining a leading position in electronic design and manufacturing , strengthening semiconductor design and manufacturing, and improving the research and development of new materials and equipment;
(5) Food and agriculture production opportunities, pay attention to food safety detection and traceability, food security production and supply chain stability.
The United States has made it clear that manufacturing and product development should no longer be separated from the overall value chain. In the priority development and transformation of technology, we no longer only focus on advanced technologies such as intelligent manufacturing, artificial intelligence, industrial Internet, advanced materials, continuous pharmaceutical (CM), semiconductor and so on, but also emphasize the importance of basic technologies such as general drugs, key materials, food and agricultural products.
In other words, America no longer only pays attention to product design and high-end manufacturing technology with higher profits, but also pays attention to the domestic development of middle and low-end manufacturing industry.
To achieve these goals, from October last year to February this year, the White House has issued National Security Strategy, Autopilot 3.0 Strategy, 5-year STEM Education Plan and Future Industrial Development Plan focusing on artificial intelligence and other key technologies.
Strategic Targets and Departments of Advanced Manufacturing Leadership in the United States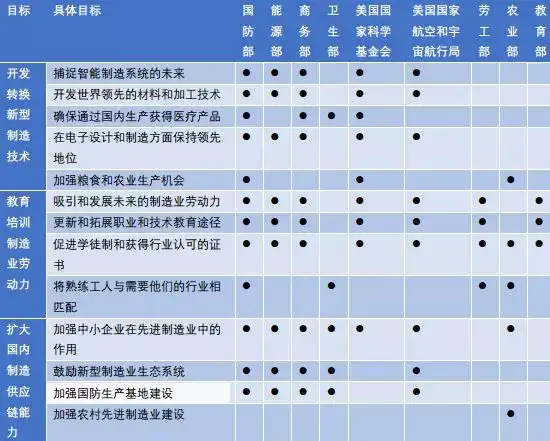 Source: Strategic Report on Advanced Manufacturing Leadership in the United States, Yunfeng Financial Arrangement
The National Industrial Strategy 2030, launched by Peter Altmaier, Minister of Economic Affairs, aims to consolidate Germany's technological leadership and protect sensitive enterprises and industries.
The goal of this strategy is to increase the share of industrial output in the overall economy from 23.2% to 25% by 2030, and to expand the share of GVA in the European Union by 20%. It also emphasizes that while supporting the "national leading enterprises", we should improve the industrial chain and continue to lay out areas such as artificial intelligence and the Internet.
Germany pointed out in its strategy that the current dominant enterprises are < strong > iron and steel industry, chemical, mechanical engineering, automobile, optics, medical equipment, green technology, military, aviation, additive industry (3D printing), while in the < strong > electronics industry, innovative carbon fiber materials, the Internet and artificial intelligence still need to be strengthened.
Current and Future Change of Advantage Industries in America (Left) and Germany (Right)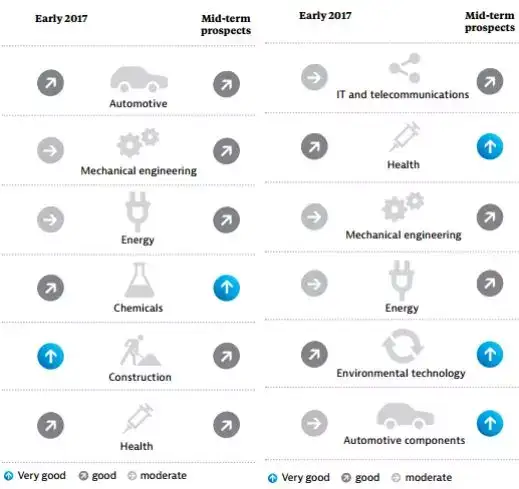 Light gray arrow: general; dark gray arrow: good; blue: excellent. Source: Germany Trade & amp; Invest
What are the big manufacturing countries competing for? .
According to Deloitte, the dominant R&D capabilities, delivery speed, supplier relationships and design in 2013 are no longer key factors in changing the manufacturing landscape. Nowadays, highly skilled labor force, strong brand reputation, advanced technology, network security and technological innovation ability are more important to the future competition of manufacturing industry .
Strong > 1. Competing for Future Technologies
In the Strategic Report on Advanced Manufacturing Leadership, the United States emphasizes that the wide application of computers in production equipment and logistics has dominated the global manufacturing competition in recent decades. The ubiquitous advances in network and machine learning, biotechnology and materials science create new opportunities for global competition in manufacturing industries based on technological innovation .
Germany also points out in its industrial strategy that if < EM > loses its key technology, Germany's position in the global economy will be greatly damaged, which will have a dramatic impact on national life, politics and society.
Both the United States and Germany attach great importance to science and technology and pledge to devote 3% of GDP to R&D in 2011.
From the perspective of manufacturing strategy of the two countries, they put more emphasis on the technology of artificial intelligence and network security.
In 2018, Germany announced the establishment of an "Artificial Intelligence Center" with France. In terms of financial support, the total amount of various existing AI R&D funding schemes implemented by the Ministry of Education and Research and the Ministry of Economy exceeds 340 million euros. In 2016, the United States released two blockbuster reports, Preparing for the Future of Artificial Intelligence (AI) and National AI Research and Development Strategic Plan (NARISP), which positively lay out AI.
Strong > 2. Competing for technical talents
In its Strategic Report on Advanced Manufacturing Leadership, the United States pointed out that there was a disconnect between new jobs in manufacturing and workers with the necessary skills. Traditional education and technical skills can no longer meet the current requirements. Future work requires new technical and cognitive abilities, such as data capabilities and systems thinking.
It is estimated that by 2025, 3.4 million jobs will be created in the manufacturing sector in the United States on the current basis, of which about 2.7 million will be created by retirees in the decade 2015-2025 (at an average retirement age of 64 years), and another 700,000 will be created by the expansion of manufacturing. According to the current situation of manufacturing education in the United States, only about 40% of new jobs can be satisfied. By 2025, about 2 million jobs (340 * 60%) will be vacant.
The United States is preparing for STEM talents for the future manufacturing industry. The country will give priority to lifelong STEM education, including primary, high school, vocational and technical education (CTE).
In addition to the Dual Vocational Education and training system (dual system), in which students can be trained jointly by schools and enterprises, Germany also emphasizes the support of small and medium-sized enterprises in its strategy to enrich the talent pool of manufacturing industry.
Strong > 3. Leader in the core area of competition
The important industrial fields mentioned by the United States and Germany are medical treatment, materials, electronic manufacturing and so on.
In order to maintain the previous dominant position, we should make greater efforts.
Strong > < br > < strong > 04. What is the argument? .
In order to compete for high-end manufacturing, first depends on investment .
At present, although the ratio of R&D expenditure to GDP in China continues to rise, it is only 2.11%, which is significantly lower than that in other developed countries.
R& D expenditure as a percentage of GDP in the three countries (%)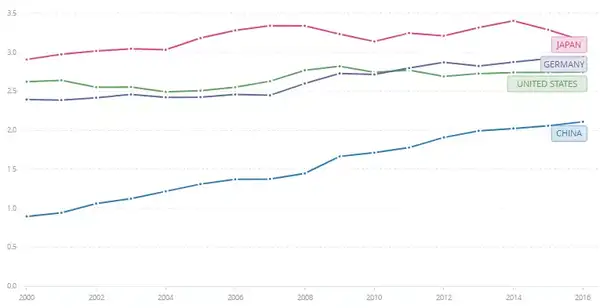 Source: UNESCO, Yunfeng Financial Arrangement
Behind the total R&D investment, there are different environmental factors for manufacturing upgrading and innovation in each country.
The characteristic of the United States is that leading enterprises lead innovation.
In the first half of 2018, the top 1000 companies in the world spent on R&D, with total R&D expenditure of 781.8 billion US dollars, of which US companies spent 329 billion US dollars on R&D.
Led by Amazon and Alphabet, the parent company of Google, they invested $22.6 billion and $16.2 billion in R&D, respectively. Among the top 1,000 companies in China, Ali has invested 3.6 billion US dollars and Tencent has invested 2.7 billion US dollars, ranking the top two in China.
In recent decades, urban agglomerations around Silicon Valley and the Bay Area of New York have largely promoted innovation. They are surrounded by efficient University systems. The complementarity of theory and industry has formed a good virtuous circle, and the speed at which ideas are transformed into market-oriented products is fast. Five US technology giants have a market capitalization of more than $3 trillion.
Strong is characterized by the empowerment of SMEs through non-governmental research institutions (Fraunhofer Institute).
The Fraunhofer Institute is an independent non-governmental Research Institute in Germany, providing high-quality, short-term and affordable applied research that SMEs cannot complete.
The Institute has more than 60 research institutes covering more than 250 key business areas and undertakes 6,000-8,000 projects annually. It adopts a typical mode of government-enterprise cooperation to provide support for small and medium-sized enterprises and some large enterprises.
Fraunhofer employs part-time graduate students to gain practical experience while learning. Combining academic research with factory apprenticeship, a well-trained and skilled workforce will be trained.
Distribution of Fraunhofer Institutions in Germany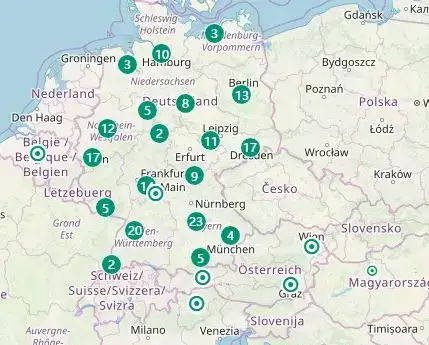 Photo Source: Fraunhofer-Gesellschaft
Small and medium-sized enterprises (SMEs) benefiting from the support of the Institute are collectively referred to as "Mittelstand" . Most of them are family businesses in small towns and rural areas, usually dating back generations. Despite its small scale, it has strong specialty, high product quality and can quickly adapt to market changes.
According to statistics, German small and medium-sized enterprises account for 99.6% of the total number of enterprises, contributing about 56.5% of the economic value added, stimulating about 59.4% of employment, can be called the backbone of the German economy.
The research institutes and enterprises provide practical and high-quality technical personnel for German manufacturing industry, which enables Germany to gain an advantage in manufacturing competition.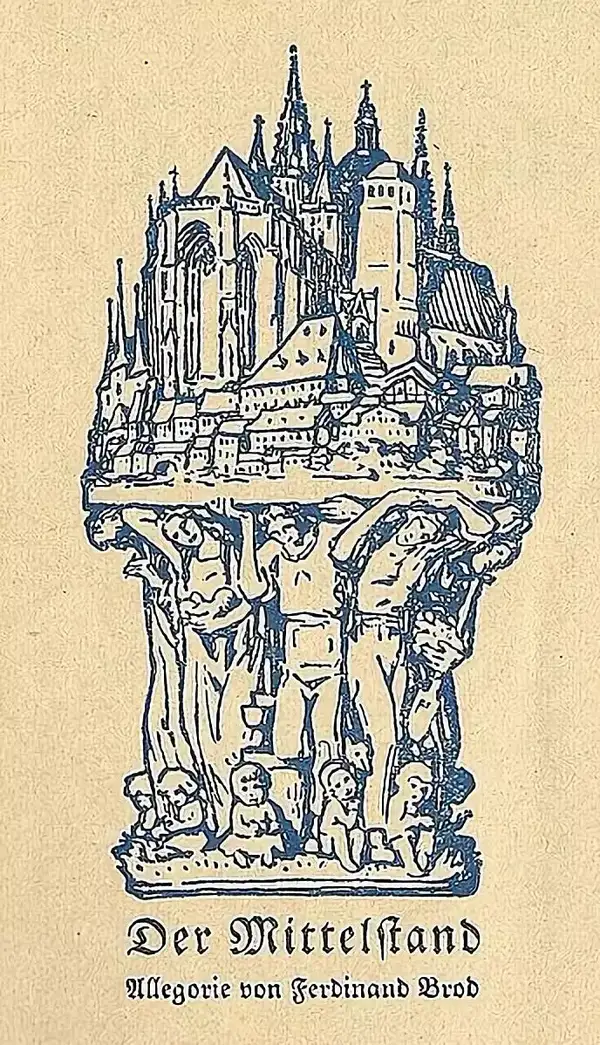 Mission of the mittelstand, Walter Wilhelms, 1925
The competitive mode dominated by technological innovation in the United States and the strong technological and labor resources obtained by Germany with the support of government and enterprises endowed the two industrial powers with further foundation and capital under the background of industrial 4.0.
In addition, the development of < strong > manufacturing industry can not be separated from the government's policy support.
In terms of policy, the U.S. policies on Sustainable development, technology transfer and introduction, monetary policy, encouraging science and innovation, foreign direct investment (FDI), intellectual property protection and safety and health regulation are conducive to local manufacturing development. The higher tax rate, medical policy and labor policy are the disadvantageous factors.
The European continent's anti-monopoly law and product liability law, as well as policies around intellectual property protection, health care, technology transfer, sustainability and science, are competitive advantages for them. Similarly, high tax rates and fiscal and monetary policies have become constraints to development to some extent.
For China, policies to encourage innovation, technology import and transfer, infrastructure development and sustainable development are the greatest advantages, while high tax rates and some inefficient state-owned enterprises have hindered development.
Advantages and Disadvantages of China, America and Germany's Policies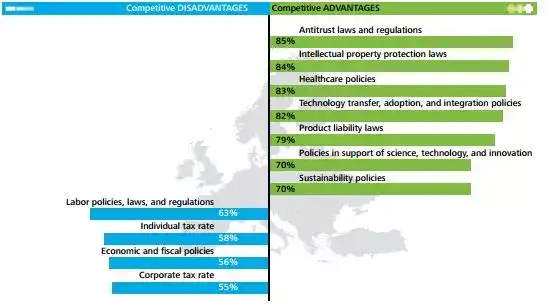 Source: Deloitte
< strong > < br > < strong > 05. Conclusion < / strong > < / strong > >
Blockquote > < EM > "Without a strong and creative manufacturing system and the jobs it creates, no advanced economy can prosper and develop." Smell's Made in America: Why the Prosperity of the Country Can't Be Without Manufacturing Industry
From the First Industrial Revolution to the Fourth Industrial Revolution, product and process innovations have been carried out every time. Productivity continues to grow, bringing lower prices to consumers, and thus promoting the formation of a larger market.
The current consumer upgrade and the pursuit of individualization and customization will make the future market more focused on the field of individual needs.
Due to technological advances, future products will be transformed into "intelligent" devices, and advances in materials science can create more complex, more powerful and advanced intelligent devices.
At the same time, the nature of products is changing, and many products will go beyond the material role of people and turn into services or channels.
Finally, digital technology can shorten the distance between manufacturers and consumers. Manufacturers may bypass traditional middlemen and face consumers directly.
As can be seen from , virtue and China are at the forefront of these future transformations.
China, with a large consumer base, has a profound understanding of the impact of consumer upgrading and personalization on the market; the development of a complete and efficient physical system, shared economy, and the application of digital technology in many scenarios of life and production, China's manufacturing industry is gradually changing.
In the field of smart devices and materials science, virtue has its own advantages. On the basis of previous advantages, the United States has spared no effort to invest in "intelligence", and Nokia, Google, Amazon and other companies have shown the leading strength.
In the past, China overtook in bends and became the "world's processing plant", but with the rise of domestic labor costs and the tightening of trade environment, the domestic manufacturing industry is under pressure.
Today, in an era of change, countries are trying to support it through more policies. Breakthroughs in innovation and talent are needed to build or maintain the competitive advantage of manufacturing industry and compete for the global market.
In the past, the "innovation" of the United States and the "craftsmanship" of Germany have contributed to their present status as the manufacturing hegemony.
Nowadays, we don't know if the strong will always be strong, but attaching importance to the construction of manufacturing professionals, increasing R&D efforts and policy support is the right way to stand firm in this change and become the "number one player" of global manufacturing industry in the future.
Sources:
Strategy for American Leadership in Advanced Manufacturing
National Industrial Strategy 2030
White House Document on Scientific and Technological Innovation Cooperation in Manufacturing Industry between America and Germany
https://obamawhitehouse.archives.gov/the-press-office/2011/06/07/fact-sheet-us-germany-science-and-technology-cooperation
White House Future Industrial Development Plan
https://www.whitehouse.gov/briefings-statements/america-will-dominate-industries-future/>/
Manufacturing opportunity, A Deloitte SeriesOn making America stronger
Global Manufacturing Competitive Venues Index 2016
Deloitte, High-performing manufacturers Where they play and how they win
UNCTAD, 2018 Handbook of statistics
World Bank, https://data.worldbank.org/indicator/GB.XPD.RSDV.GD.ZS?Locations=CN-DE-US?
https://cybersecurity ventures.com/cybersecurity-500-list/> https://cybersecurity-500-list/
https://www.defensenews.com/top-100/
Thank you for your colleagues in the research department: Wang Runmeng and Ma Wenhui.